Description
Shipping and Delivery
The Best Fascinating Real Carbon Fiber Wallet in 2022.

"Well, this is the first wallet I've seen covered in blue real carbon fiber, and it has an interesting look.The blue carbon fiber gives off an iridescent glow in the light."
"This is the most amazing wallet I have ever seen. I was intrigued by the real carbon fiber."
"The Parrigai Blue Real Carbon Fiber RFID Blocking Men's Wallet is very sharp-looking. Even elegant. Yet still thoroughly masculine."
"So, this is a beautiful wallet. It is hard to see in the photos but the blue is really stunning. "
Truly actual carbon fiber inlays instead of a carbon fiber imprint.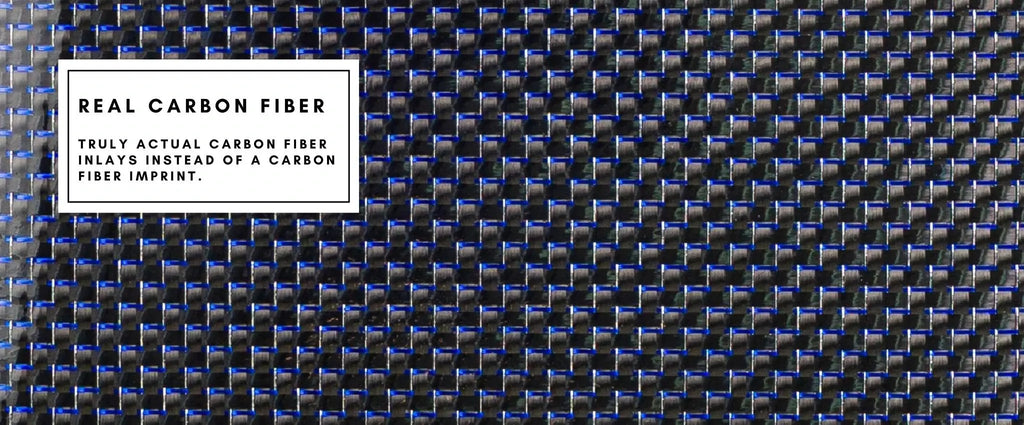 Our Parrigai® blue carbon fiber wallet is made with real gloss carbon fiber, the same materials as the highest performing supercars.For the shiny finish, will provide a "clear" barrier between the environment and your carbon fiber weave, scratches can usually be buffed out. Nothing sets off blue real carbon fiber better than a French seam. A French seam is often found in luxury vehicles and boat upholstery.
Carbon fiber wallets are insanely durable and strong, carbon fiber wallets designed with calfskin leather are even more so.
For the men who like to place importance on what they're wearing and who like to indulge in luxury men's bifold wallets, Parrigai carbon fiber wallets are definitely the best option for you.
PERFECT GIFTS IDEAS 
You don't have to spend a lot of money to find a gift that's meaningful or unique, but if your budget allows, it's okay to splurge sometimes. Whether he regularly has fancy taste or is as frugal as can be, there are plenty of luxury gifts he'll appreciate and love for many years to come.
The perfect gift for the men in your life,takes care of any guy on your shopping list — husband, boyfriend, brother, son, groomsmen, friend, and so on.

Perfect gift for fathers day, valentines day, anniversary, christmas, housewarming, graduation, birthday, wedding, retirement.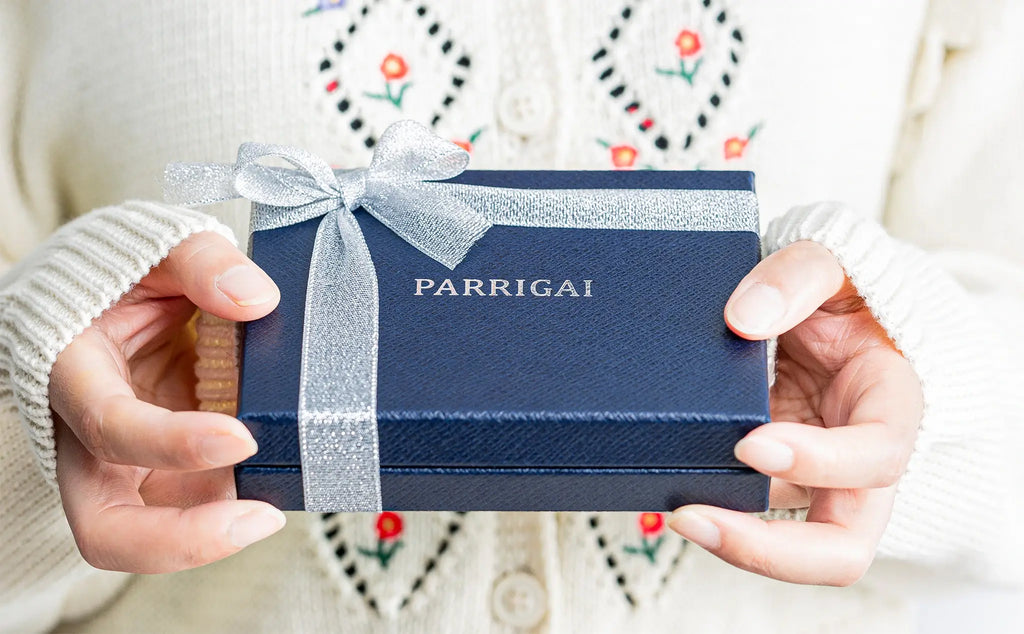 SLIM YOUR WALLET
There's no unecessary bells and whistles on this wallet, only a slim, trim, well-crafted design.

Our wallets balance clever storage with easy access, ensuring you always have what you need when you need it.

Ultra-thin shape allows you to have a delicate appearance and lines both inside and outside your pocket.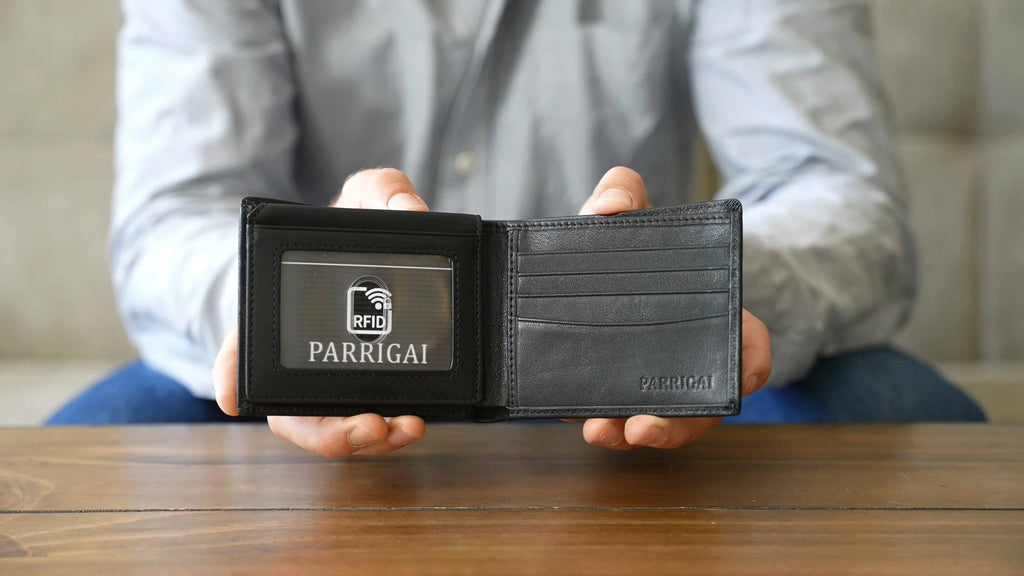 SURPRISED STORAGE SPACE

This bifold wallet offers 8 card slots, 2 hidden slots ,1 clear ID window ,1 photo window 2.5" x 3.5" max size and a divider in the money section.

Now, all of your credit card, membership card, reward cards are logically organized with the ample space.

The split cash compartment is great for business travel, keep the smaller "tip" bills and receipts in the first compartment and the larger bills in the back compartment.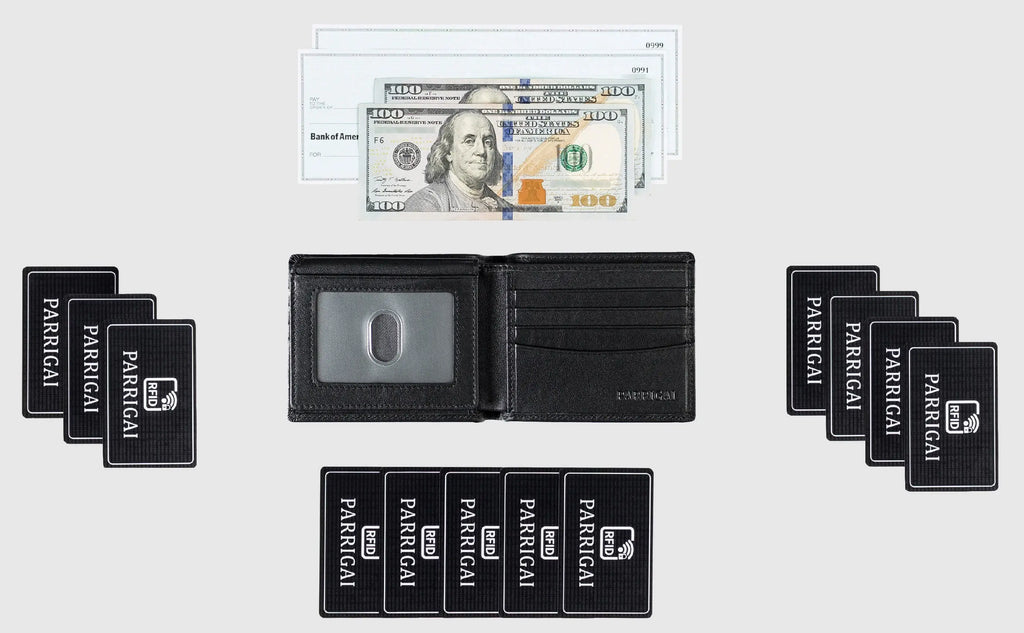 SMOOTH, SOFT GENUINE LEATHER
Beautifully designed and crafted with 100% calfskin original genuine leather which will make for one of the most high-quality wallets you've ever owned.

The ultra-soft leather features hand-rolled edges for a refined look and added durability.
24/7 RFID BLOCKING PROTECTION

Store your money and cards securely in this wallet from Parrigai.

Radio Frequency Identification (RFID)chips technologies have been around you today, and they're now included in more and more items.such as.credit cards, licenses, ID cards and transit cards.

Yes! your RFID products can possibly be read from a distance. Yes! a hacker might be able to read your credit card information remotely as you pass by.

Please don't worry about it! When you're travelling aboard during the holidays,our RFID wallet protection secures your credit card and other RFID-chipped cards.
SPECIFICATIONS:
Holds 8 – 12 cards
RFID security lining 24/7 protection
Premium, environmentally certified calfskin leather

Blue r

eal g

loss c

arbon fiber
2 clear ID flap for license and photo

The flip-up ID window is fixed in place and is not removable

Compartment with divider for bills and receipts
4.41 inch x 3.54 inch x 0.39 inch
2.04 ounces
3-Year Warranty


PACKAGE CONTENTS:
1 x Wallet with gifts box
Shipping And Delivery

| | | |
| --- | --- | --- |
| Shipping Type | Delivery times | Cost |
| Standard Shipping | 3 - 5 business day | Free |
All in-stock orders will leave our warehouse within 24 - 48 hours of the order being placed.
Orders placed after 12 PM Pacific Time on Fridays, or anytime over the weekend, will ship the next business day.

FREE SHIPPING via USPS
All orders to the United States, are shipped from our warehouse in the US.
Warehouse Address: 5650 Grace Pl Commerce CA US 90022

COVID-19 Update: Please note delivery times may be longer than usual.

Good looking and high quality
I love this wallet. The carbon fiber changes color based on the angle you are veiwing it from and the leather on the inside is really nice. Plenty of space for cards and ID. 10/10 would recommend
A Most Unusual Men's Wallet
When you look at some of the photos of this wallet, it almost looks like some type of 1970's disco-inspired wallet, or maybe one made from fabric to decorate children's dolls. When you see it IN PERSON, however, you get a much different impression. This is a very nice-looking, unique, handsome wallet.
The outside looks much more black than blue, and you only get that "glittery blue" look upon certain conditions and from certain angles of view. Most of the time, the wallet looks like a distinguished, albeit decorative, men's wallet. The carbon fiber fabric is only on the outer part of the wallet: the inside of the wallet is a supple, dark black leather.
Due to its use of carbon fiber fabric, the wallet is surprisingly light. This is a case where the contents of the wallet will easily outweigh the weight of the wallet itself. The wallet opens and closes easily, and there is no need to "work in" the closure: the wallet closes up easily even when brand new. It holds the standard number of cards, has two "hidden" slots behind the cards, and has a bill section that is divided into two parts using a thin fabric divider (in case, say, you wish to put higher-value bills on one side and ones on the other).
The stitching is well done and the overall feeling of the wallet presents one of quality, the wallet comes wrapped in tissue paper, enclosed in a custom cloth bag, and then placed in a dress box, making it perfect for gifting. Based on my own review of it, this could very well be the gift to give to that man who you never know what to get for, a father, a son, a husband, or someone just entering the work world for the first time. I'm fairly certain that anyone who is gifted this will enjoy it immensely due to its dressy look and light weight. Five stars.
PLUSES
++ Undeniably unique
++ Visually appealing
++ Carbon fiber is very strong and light
++ Interior leather is smooth and supple
++ Numerous slots for cards
++ Extremely dressy gift wrapping
MINUSES
-- Expensive compared to many wallets
-- Extremely unusual look, though very distinguished, may not be to all tastes
Takes a week or so to break in, but it is great
My old leather wallet had seen better days. I had been thinking about getting a wallet with RFID blocking capabilities. I don't know what the range of most credit card and scanner technology is, but I'm pretty impressed at how well those credit card scanners work. But I also don't want someone scanning my cards if I move near their scanner.
After I started using this wallet, I asked the guy at my local hardware store if he would indulge me with a test. I ran my wallet all around the credit card scanner but it never picked up my credit card in the wallet. It only scanned it once I pulled the card to make my payment. Some points right there for this wallet!
They call the look of this wallet "blue carbon". It is different looking, for sure. But, I do like it and think it is attractive.
It took a week or so of continual use for it to loosen up so that I could pull cards out of the credit card slots easily. The cards are held in pretty tightly (which is good.)
It is a bit pricey but no more so than a traditional leather wallet.
Beauty
Now this is a gorgeous wallet! The carbon fiber is stunning and unique. It is so eye-catching. Beyond pretty, it is also perfectly functional - space for bills, plenty of credit card slots, and even a flip up window for your driver's license. It is a little bit wider than what I would consider traditional, but that is fine with me. This would make a fantastic gift for a man or a woman! Highly recommend!